Minibus full of tourists spot Keanu Reeves, go crazy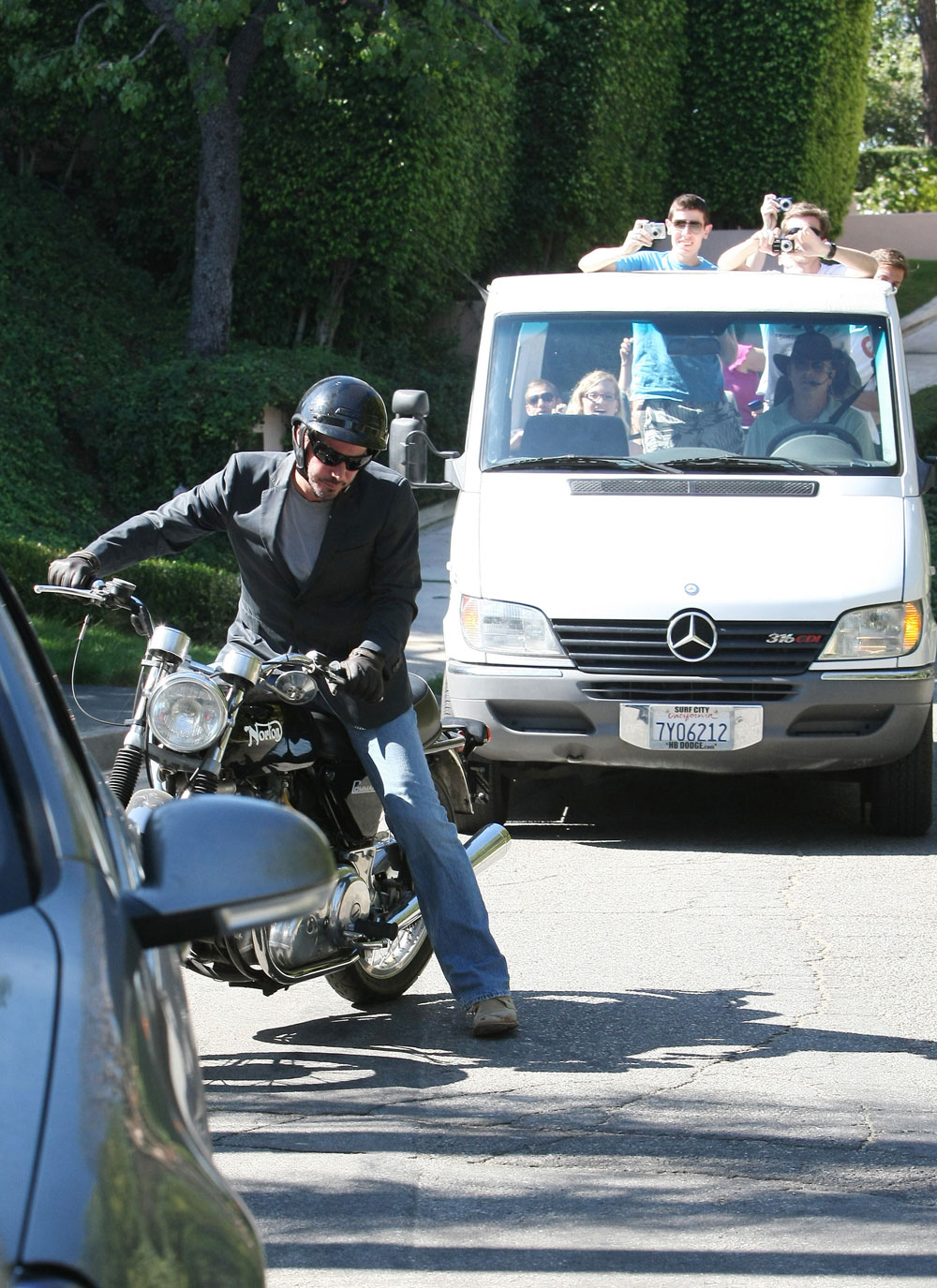 A minivan full of tourists spotted actor Keanu Reeves, 44, leaving his mansion in the Hollywood Hills on his motorcycle on Saturday. The excited fans stood up in the back of their open vehicle and took pictures as Keanu sat waiting in traffic, getting his photo reluctantly snapped by the tourists and a lucky paparazzo who happened to be on the scene.
At first I didn't think this was Keanu because it doesn't look like him from the front. When he turns his head to the side and you see his profile you can tell that it's definitely him.
Keanu was
last spotted out in London with a group of friends
that included reality TV hostess Trinny Woodall from the BBC's version of "What Not to Wear." Keanu and Trinny have been linked in the past, as she was seen visiting LA and riding on the back of his motorcycle this August. Reports say that the two are just friends. As pointed out by commenter Lilly, Keanu escorted another woman to the London Film Festival, a brunette who was seen out with him the night he went out with Woodall and friends.
Reeves will next appear in The Day The Earth Stood Still, a remake of the classic science fiction film from 1951 about an alien and a robot visiting earth. I think I watched that in college when I was super high. The film is out in the US on December 12 and opens around the world around the same time. It also stars Jennifer Connelly. He also stars in The Private Lives of Pippa Lee with Winona Ryder, which is in post production and is due for release next year.
If you were on a bus tour and happened to run across Keanu Reeves would you start taking photos like crazy? I know I would. I would also have to resist the urge to yell "Dude, Excellent!"